Welcome to the Home Page of the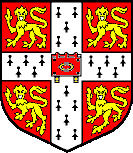 Materials Chemistry Group
Department of Chemistry, University of Cambridge, Lensfield Road, Cambridge, CB2 1EW, UK
---
Professor William Jones
Professor of Materials Chemistry and Group Supervisor
Dr Graeme Day
Associate Member
Dr Aurora Cruz-Cabeza
Crystal Structure Prediction of Organic Molecular Solids
Dr Amit Delori
Dr Tomislav Friscic
Development and Design of Solids via Weak Non-Covalent Interactions
Dr Gareth Lloyd
Mark Eddleston
Characterisation of pharmaceutical compounds by transmission electron microscopy.
Bhavnita Patel
Daniele Tomerini
Danny Mirpuri-Vatvani
Modelling of Crystal Surface Properties
Ernest Chow
Hugh Thompson
Ed Pyzer-Knapp
Characterising the crystal energy landscapes of porous organic molecules
Andreas Stegmüller
Monolayer crystal structure prediction of organic materials on graphite surfaces
Patrick Beldon
The optoelectronic properties of metal-organic frameworks
Dongpeng Yan
1. Experiment and computer simulation on the ordered assembly of luminescent molecules in layered double hydroxides; 2. Synthesis of fluorescent organic crystals.
Seye Oh
Cherry Yeung
Matt Cliffe
Michaels Arhangelskis
Chris Jones
Matt Doggett
Matthew Brooker
Research Laboratory Technician
---
Follow this link for an overview of group research activities: Research Activities - PDF version
For further information please consult:



Also available on this site are:
This site makes use of MDL's Chime plug-in . Follow the link to download the latest version.

If you would like to contact the group, please e-mail Professor W Jones. A few other sites of interest are the Department of Chemistry homepage, links to other materials groups in the University of Cambridge and the University of Cambridge homepage itself.
---
Website updated by Liz Alan in November 2010